Mama Mboga was irked by President William Ruro's failure to adhere to his promises to help those at the grassroots rise to the top
The businesswoman said she no longer sees Ruto as the president nor values his government and system of administration
She claimed that since Ruto came to power, the tune changed and now it is the poor contributing to raising the president's status
Nancy Odindo, a journalist at TUKO.co.ke, brings more than three years of experience covering politics, news, and feature stories across digital and print media in Kenya.
Mama Mboga has criticised President William Ruto's Bottom-up economic model, which aimed at upgrading small businesses.
According to the angry businesswoman, the president has altered the promise, making hustlers uplift him contrary to the promise.
Pastor Ezekiel Scoffs at Moji Short Baba's Dance ya Kanisa Song, Sneers at Message: "Wazimu"
"Rais alituambia atatoa mama mboga kutoka chini awekee juu. Sisi tunaona, ametutoa juu akatuweka chini kabisa. Ni sisi ndiyo tunamuinua sasa," she claimed.
Speaking with sorrow, the woman said they are tired of the Kenya Kwanza government and are no longer interested in its administration.
"Tumechoka kabisa. Tumebeba gunia mpaka tumechoka. Mpaka penye nimekaa naongea na huzuni sana. Penye ako ajue sisi mama mboga tumechoka na hata hatumtaki na hiyo urais wake. Mimi kwa upande wangu simtaki kabisa," she cried.
Kiambu Mama Mboga says she was used for campaigns
In other news, Kiambu woman Pauline Waithira, who endorsed Ruto's presidential bid, claimed the head of state abandoned her after using her to get political mileage.
"I am very angry with politicians who used me for political gain during campaigns and have now abandoned me. I was used to illustrating how poor people would benefit from Ruto's government from the bottom up," she said.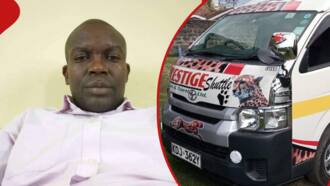 Prestige Shuttle Driver Takes Woman to Hospital after She Fell Sick During Journey: "Kazi Ya Mungu"
The 70-year-old woman said the politicians took advantage of her situation to lure poor electorates to vote for the United Democratic Alliance (UDA) party.
The woman said she was disappointed after Kenya Kwanza failed to invite her to the inauguration ceremony of President Ruto.
According to her narration, those she used to dine with had refused to pick up her calls after they got to power.
"But even after they won the presidential election, I was not even invited to Kasarani Stadium during the inauguration of President Ruto and his deputy. I spent the whole day crying at home; people were laughing at me," Waithira told the publication.
Bottom-up economic model is a Bible phrase
While popularising the model in July last year, Ruto said it aligns well with Bible phrases.
Ruto quoted Bible verses from which the word was derived.
"When we are advocating for the bottom-up economic approach, that is exactly what the Bible says.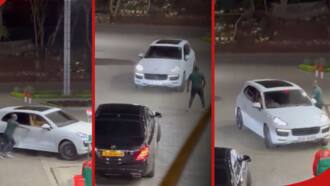 Lady Hijacks Man's Porsche at Petrol Station after Altercation in Viral Video: "Enda Ununue Ingine"
He raises the poor from the dust and lifts the needy from the ash heap; he seats them with princes, with the princes of his people," Ruto quoted Psalms 113:7-8 per the New International Version (NIV).
Source: TUKO.co.ke