Kenya's Deputy President Rigathi Gachagua was displeased by Julius Malema's harsh criticism of President William Ruto
In his visit to Kenya, the South African parliamentarian had picked holes in Ruto's stance on Pan-Africanism, pointing out that he was not talking his talk
However, defending Malema, lawyer Miguna said the South African had every right to speak his mind and spotlight whatever he felt was wrong with Ruto and his administration
Nairobi – Lawyer Miguna Miguna has faulted Deputy President Rigathi Gachagua for going ballistic on South African politician Julius Malema, who was in Kenya for a tour.
The deputy president picked issue with Malema, who had launched criticisms on President William Ruto.
Malema's only problem with Ruto
Malema was displeased with Ruto's perceived lack of solid stance on Pan-Africanism whenever he was out of the continent.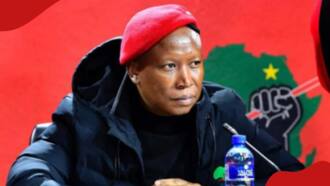 Visas and Borders Are Enemies of a United Africa, Julius Malema
PAY ATTENTION: Share your outstanding story with our editors! Please reach us through [email protected] or WhatsApp: 0732482690.
In one instance, the outspoken parliamentarian questioned Ruto's position on the Palestine-Israel conflict, which he said does not represent that of a Pan-Africanist.
"I asked why would you claim to be a Pan-Africanist because Pan-Africanism is necessitated by the fact that we are an oppressed and dejected nation, as Africans. That everyone rejected should find sympathy in us; Palestinians have been isolated and killed in their own land, just like Mau Mau here in Kenya, then Ruto says he is with Israel, how do you say that?" posed Malema.
How Rigathi Gachagua defended Ruto against Malema
Seeking to shield Ruto against the attacks, the deputy president counselled the South African leader to respect the leaders of the country he was attending.
Gachagua pointed out that the county that Malema came from was not any better compared with Kenya, asking him to keep off the local affairs.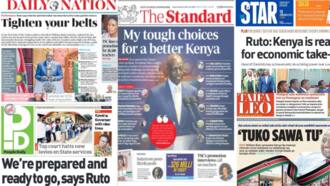 Kenyan Newspapers Review: William Ruto Warns Kenyans of Tougher Economic Times Ahead
"I heard a certain leader from South Africa criticizing the government. He doesn't even know Kenya. We would like to tell leaders to respect the leaders of the countries they are visiting. I was in South Africa and they ration electricity for 7 hours but I did not criticize them," said Gachagua.
However, coming to Malema's defence, Miguna said he was at liberty to spotlight leadership flaws regardless of his status, identity and nationality.
The lawyer asked the deputy president to positively take criticisms from outsiders like Malema and focus on the weight of their counsel.
"You are wrong Rigathi. Why shouldn't Julius Malema criticize Kenyan leaders when he believes that they are hypocritical? Who stopped you from criticizing the South African leaders when you were there?
Self-censorship and the misguided belief that visitors shouldn't point out our errors serves the privileged like you but it doesn't serve the majority of the people for whom Malema spoke. Focus on the message; not on the status of the messenger. Our people deserve better! Africans must stop supporting Zionist apartheid Israel!" fired Miguna.
Julius Malema Slams William Ruto over Unfulfilled Promises in Visit to Kenya: "I Can't Locate Him"
Malema called on Ruto to foster Africanism at the expense of pleasing circles that are foreign to Africa.
"We call upon the Kenyan Government to be firm and to decide what they want to be, do they want to be Pan Africanist or do they want to be proponents of neocolonialism, you can't have it both, only one call must be made and that call is open Africanism," he said.
Malema leads the Economic Freedom Fighters (EFF), a leftist political outfit founded in 2013 and which has been challenging the ANC government.
What Malema said about King Charles III's visit to Kenya
While landing at the Jomo Kenyatta International Airport (JKIA), the politically abrasive South African parliamentarian waded into King Charles III's recent visit to Kenya.
Malema reiterated that the British were aware of their crimes against Kenyans during colonial rule and should commit to reparations.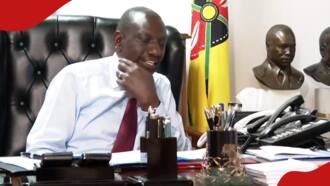 William Ruto Makes Calls to Kenyans to Understand Their Issues ahead of State of Nation Address
The politician observed that the visit to Nairobi was of no value to Kenya and Africa as a whole, adding that he had no business touring Kenya.
"The British know what they did to the Kenyan people and they've got no business putting their foot here except that they should pay reparations to Kenyans because its the only way we'll accept an apology from the British.
"We're Here to Undo What He Did We don't think his visit is of any significance to the development of Kenya and the African continent unless they are able to commit the trillions of pounds to try and heal the deep wounds they left in Kenya," Malema stated.
Malema landed in Kenya on November 9 to grace the inauguration of the Pan-African Institute at Makueni County's Lukenya University.
Source: TUKO.co.ke