President William Ruto jetted out of the country on Sunday, November 19, destined for Germany for bilateral labour talks
Ruto had in March 2023 travelled to Germany and the headquarters of the European Union, Brussels, Belgium
Kenyans said that the president's frequent tours had made him look like a foreign leader who regularly visits Kenya
President William Ruto jetted out of the country for Germany on Sunday, November 19, seven days after his Saudi Arabia trip.
William Ruto jets out to Germany
The head of state, criticised for frequent trips outside the country, stated that he was headed to the European country to strengthen bilateral labour agreements.
"We have an agreement with Labour CS Florence Bore to sign bilateral labour agreements to see us export our workforce from Kenya. We intend to export 3,000 Kenyans to work across the world every week.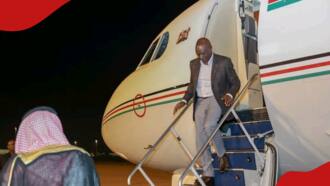 William Ruto to Fly to Germany Tonight Amid Uproar Over His Excessive Foreign Trips
PAY ATTENTION: Do you have a video that never fails to make you smile? Spread the positivity by sharing it with us via WhatsApp: 0732482690.
"I was in Saudi Arabia last week with the Labour CS. The German Chancellor was in Kenya three months ago. I am going to Germany tonight because he promised us 200,000 jobs," Ruto said on Sunday, November 19.
After the confirmation that Ruto would be going to Germany, a section of Kenyans across social media harshly, yet hilariously, criticised the president's departure from the country.
Kenyans react to William Ruto's trip to Germany
Some netizens hilariously described Ruto's trip, saying the president's in and out had made him look like a tourist or a foreign country's president who tours the country.
Others said that Ruto had taken about a week before travelling because of the El Nino rains that had made his clothes take longer to dry.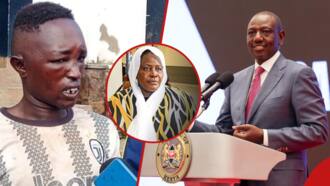 Kenya This Week: William Ruto Leads Kenyans in Tree Planting Exercise, Other Trending Stories
"I made a stopover in Kenya en route to Germany from Saudi Arabia. Anafaa akue tu admin pale Wanderlust Diaries ndio anatupea bucket lists na travel itineraries and budgets to different countries. (He needs to be an admin on the Facebook Wanderlust Diaries page so that he can give us bucket lists of travel itineraries and budgets for different countries," said Nimo Mwangi.
Njoroge Wa Ngugi needed help understanding why Ruto was travelling back to Germany after visiting the country and Belgium in March.
"He was in Germany and Belgium in March…tena amerudi (he's back there?) We need to introduce him to Zoom and Mteams now," Ngugi said.
Kenya Kwanza politicians back William Ruto's foreign trips
Fredrick Waringa argued that the president could cut back on his tours and use the Kenyan ambassadors in those countries to execute some of the responsibilities that he travels to do.
"Ruto, the walking president, can't send an ambassador to convey the message unless he goes himself. Sasa Ruto anataka kuvisit all countries he couldn't visit. (Now Ruto wants to visit all countries he could not before.) He has restricted ministry officials from travelling," said Waringa.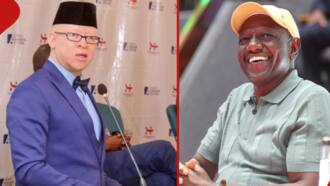 Isaac Mwaura Asks Kenyans to Give Ruto 2 Years to Reduce Cost of Living: "Tuvumilie"
Politicians from the Kenya Kwanza administration, including National Assembly Majority Leader Kimani Ichung'wah, have backed Ruto's trips, arguing that they were for all Kenyans' benefit.
Source: TUKO.co.ke